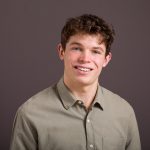 —

Jonathan Angell

—

Jonathan is an undergraduate student pursuing a double specialist in Human Geography and Peace, Conflict and Justice at the University of Toronto. He is passionate about issues of migration and forced displacement, an interest that began while he studied at the United World College in Mostar, BiH. Jonathan's engagement with the Post-Conflict Research Center is motivated by a desire to better understand Bosnia and Herzegovina's complex sociopolitical climate in a way that builds on knowledge he has acquired in Mostar and at UofT. He also hopes to apply skills that he has developed so far as a researcher for the Reach Alliance, a
multi-university initiative that seeks to better understand how governments and organizations
can bolster access to the UN Sustainable Development Goals by hard-to-reach populations.
More than 50 young people from Bosnia and Herzegovina, Europe and the world tied scarves and shawls on both sides of the path that connects the Srebrenica Memorial Center and the graves of Srebrenica genocide victims, creating an art installation entitled "Mother's Scarf" to pay tribute to the mothers and women – the heroines of Srebrenica – and their long-standing fight for justice and truth.