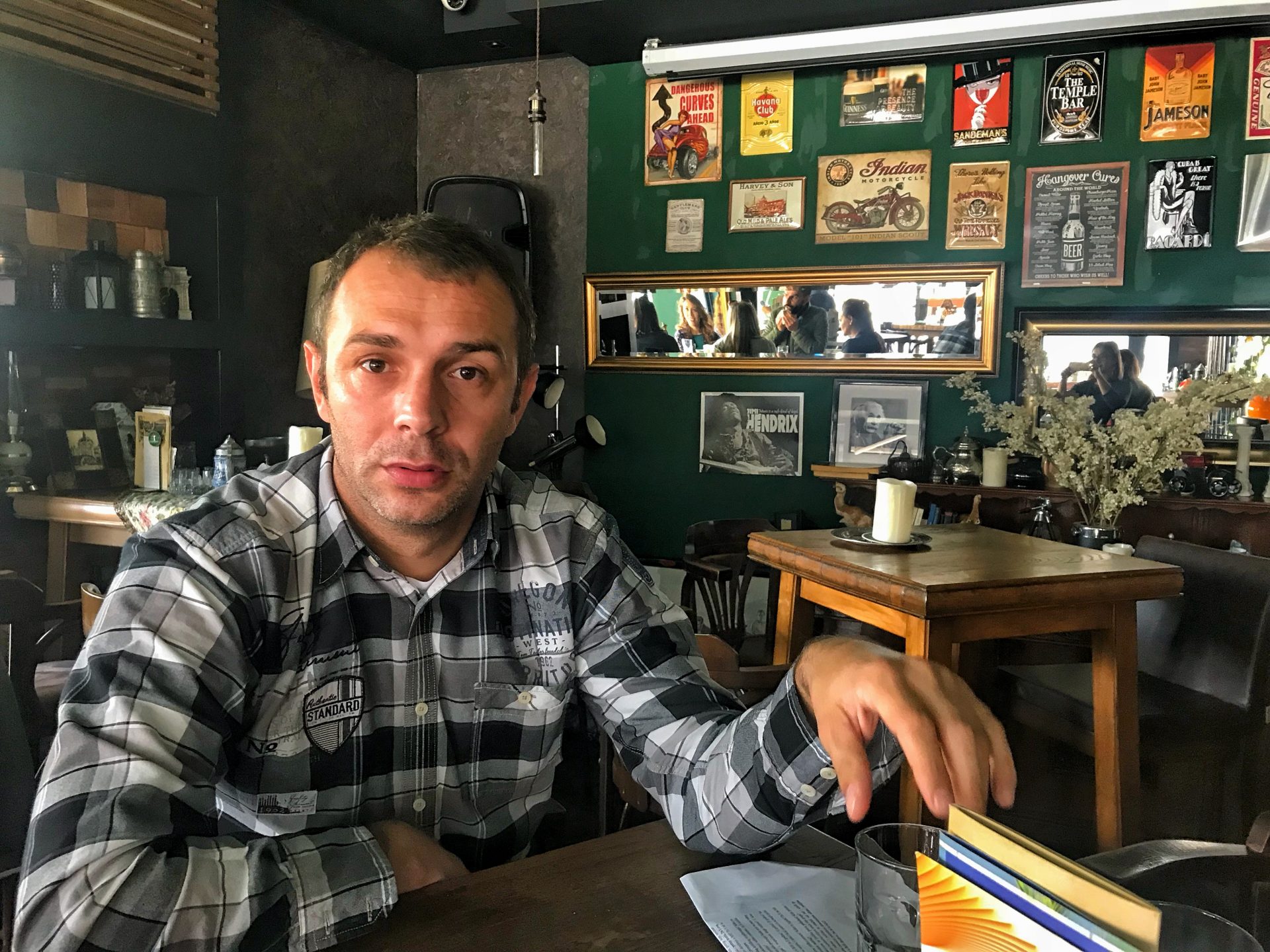 The freedom of expression and media freedom are fundamental principles of democracy, but recent media reports often emphasize the online threats that journalists receive on forums and portals, which include death threats. In addition to the evident safety issues, the political structure in Bosnia and Herzegovina (BiH) and increasing financial pressures make the situation more difficult for journalists working in the country. This has all led to a major problem for journalism in BiH – censorship and self-censorship.
All of that didn't stop Avdo Avdić who decided to confront the system and risk his own safety to write about the things that impact the everyday lives of BiH citizens.
Avdo Avdić, a journalist for the online magazine Žurnal, was full of passion when he talked about the importance of journalism as an educational and informative channel for all citizens. As a former public service employee, he was working at a job that he could happily have continued working on until his pension. But he still decided to go to a research media house where he could write about what he wanted to write about.
"I decided to take this uncertain step for the sake of my own freedom. I had a 'safe job' as a public servant where I could work for a decent salary until I received my pension, but I left to join another media house where I was free to write and publish what I wanted. I don't have any second thoughts about my decision. I went from a place of certainty into one of absolute uncertainty, but if you want to write, and if you want freedom, you have to pay a price," Avdić said.
According to him, there are many media that publish the truth, but the problem is that this truth is selective. "90 percent of things that are read on the internet portals can be considered as truth. However, the problem is that this truth is one-sided, it's not everyone's truth," Avdić said, adding, "but I don't criticize my colleagues when they are forced to sign off on some things they don't personally agree with because it's very difficult to find a job in this country."
Although a number of reports on journalists' rights and freedoms cite their exposure to various threats as a widespread problem, when inquired about the issue, Avdić stated that he feels absolutely safe.
"We've received numerous threats and threatening images. I informed the investigative authorities that they should take care of my security. I didn't feel in danger at any time. There is a criminal offense of endangering one's security and this is determined by the police, prosecutors, and judicial institutions," Avdić said, pointing out that the essence of journalism is not to create personal promotion through the public disclosure of threats.
"The problem in our society is that journalists have become focused on themselves. If the purpose is to talk about your vulnerability, then you aren't suited for this career because you are there to pay a certain price for your efforts to inform people. The public is not there to make judgments on your peril," Avdić added.
Avdić also said that journalists cannot speak on being threatened because, "What about the miners who work in mine pits for the same salary?"
"Did you notice that the miners aren't talking about the dangers of their job every day, rather only when someone is killed or injured? But the journalists' vulnerability is talked about every day, which is not right or fair. We are becoming too focused on ourselves and I believe we should instead be talking about the people's problems. Maybe then those people will appreciate us and then we will improve our status in society," Avdić said.
Speaking about media literacy, Avdić said that we can exclusively talk about the general illiteracy of BiH society, citing the example that when he publishes a text that covers some mundane issue, his readership is higher.
"When we publish something deals with some of the major problems that can have far-reaching consequences for people, there are approximately five, ten, and up to 20,000 people that read it, however, when you announce that someone drove a car with fake license plates, the text is read by around 100,000 people. Unfortunately, this means that people are more interested in entertainment than in reality," Avdić said.
When asked why he chose journalism, Avdić explains that he didn't choose journalism; he simply did not want to do anything else.
"To say that I have chosen journalism would mean that I had more options available. I didn't have any other options. I didn't choose journalism, I just wanted to be a journalist," Avdić concluded.
---
This publication has been selected as part of the Srđan Aleksić Youth Competition, a regional storytelling competition that challenges youth to actively engage with their own communities to discover, document, and share stories of moral courage, interethnic cooperation, and positive social change. The competition is a primary component of the Post-Conflict Research Center's award-winning Ordinary Heroes Peacebuilding Program, which utilizes international stories of rescuer behavior and moral courage to promote interethnic understanding and peace among the citizens of the Western Balkans.
The Balkan Diskurs Youth Correspondent Program is made possible by funding from the Robert Bosch Stiftung and the National Endowment for Democracy (NED).