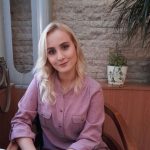 —

Maida Šljivić

—

Maida is a trained Balkan Diskurs youth correspondent from Tuzla. She was born on June 26, 1999, in Tuzla, where she is also educated. She is currently a third-year student in the study program Political Science, International Relations and Diplomacy at the Faculty of Philosophy. As an active student, she acts as the President of the Student Council of the Faculty of Philosophy, University of Tuzla, as well as the Vice President of the Student Parliament of the University of Tuzla, and the President of the Commission for Economics and International Cooperation of the Student Parliament of the University of Tuzla.
There are numerous positive and practical examples of youth action taken to improve the society in which we live and advocate for change.
Unity in diversity and mutual tolerance have always been present as a modus vivendi in Bosnian society, even during desperate times. The story of two religious leaders in Tuzla testifies to this, as they found a solution to a common issue, despite their differences. They had the same issue which was bigger than the differences between them – the question of human lives and death. And the solution to this issue was the mass burial of the victims of the massacre at Kapija, which was a mutual proposal by Muhamed effendi Lugavić and fra Petar Matanović.