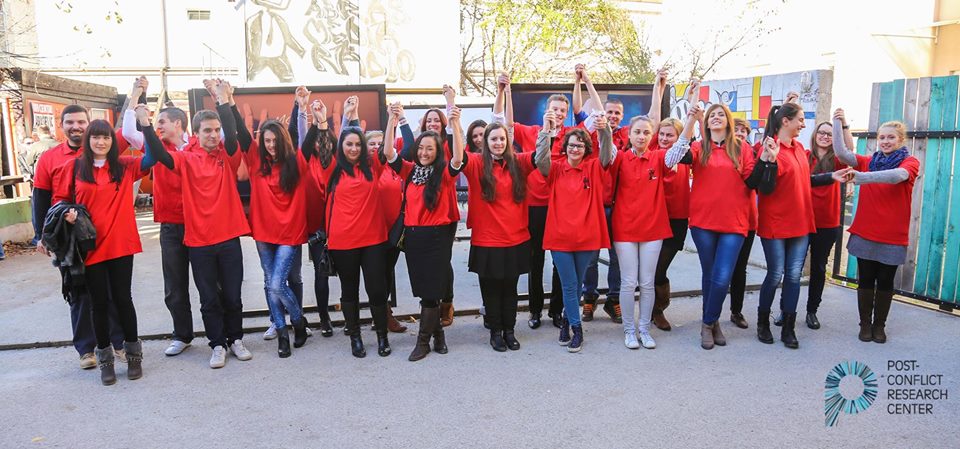 Even though there are not a large number of students volunteering in Bosnia-Herzegovina, those who do find that they gain significant professional experience. This experience can give students a professional edge in a country that suffers from the region's highest rate of unemployment.
The definition of "volunteering" implies work, effort and commitment without being paid. The current economic situation in Bosnia, with high unemployment and low growth, may be one factor that discourages young people from volunteering, as their lack of financial resources places greater importance on paid positions. Furthermore, a lack of information and institutional support with regard to these opportunities are additional factors that contribute to Bosnia's underdeveloped culture of volunteerism.
"One of the biggest problems is actually the system itself. The economic situation together with the high rate of unemployment — especially youth unemployment — contributes to the fact that people are searching for any kind of paid work in order to survive everyday life," says Lejla Rašić, long-term volunteer and current employee of Via Media Company in Sarajevo.
Unemployment among young people in Bosnia is the highest in the region. According to the World Bank's Regular Economic Report for South East Europe countries published in 2013, 58% of 15 to 24-year-olds are unemployed.
"The unemployment rate is troubling, because many young people are leaving the country in search of work, [with] most going to Europe. Bosnia is at the very top of the world list of unemployment," explains Abebe Adugna, chief economist of the World Bank in Bosnia, Kosovo and Albania.
Through volunteerism, young people have the opportunity to learn new skills relevant to the workplace, and not only contribute their own ideas, but gain the practical expertise necessary in order to implement them. Moreover, it provides direct access to working professionals and future contacts, therefore providing brighter prospects for attaining paid employment in the future.
"Actually my first professional full time job happened because of my volunteer projects. I was working in a marketing team for one project, where I got in contact with a research company and several months after the project they contacted me themselves to ask me to work for them," saysNina Marković, former long-term volunteer and a current Brand Manager in Sarajevo.
Marković goes on to explain how her volunteering experience enabled her to gain the particular skills and knowledge to build a resume with the potential to stand out from the crowd.
"Volunteering gave me firsthand practical knowledge; I signed my first contract, had my first job interview, planned projects and was part of a team in addition to leading one. I did not have the chance to experience all of those things in my formal education. Our surroundings do not allow us to gain a lot of practical knowledge after finishing our studies, so volunteering is one of the easiest steps we can take and will make us more competitive in the labor market."
Asja Kratović, a long-term volunteer currently working for the National Democratic Institute in Bosnia, explains how volunteerism provides individuals with more opportunities for personal improvement, whilst making them more capable and efficient.
"Volunteering was one of the main reasons I got numerous scholarships and fellowships for different summer schools, programs, trainings, master's studies, my first job and all other jobs that followed. Volunteering provided me with a free educational and professional trip throughout Europe and the US. If I could go back and volunteer even more then I would, because there is no book that can teach you the things that you learn through hands-on experience."
Indeed, confident and capable applicants are more likely to be successful in securing jobs. Kratović further illustrates how, through volunteering, people develop communication and leadership skills, expand their social networks and become more desirable applicants for future jobs.
"In my own experience volunteering was something that gave me more credibility for every job to which I applied. Every employer wants to know that [their] employees are dedicated to work, and what better way to prove this than to actually work for free for a certain period of time. This will show them that you are not only driven by money, but that you believe in the mission and vision of this company and will give the best of yourself to become a valuable member of their team."
It is important to emphasize that Bosnia's cultural lack of volunteerism is due not only to insufficient support from institutions, but also to unawareness of the positive effects of volunteering on the part of students. Academic institutions in particular are not providing enough information to potential volunteers, nor are they emphasizing the importance of volunteering with regard to the cultural benefits.
"When I was a high school student, I knew very little about volunteering opportunities or about academic and other exchange opportunities available for youth my age. I wasn't even aware of the various scholarships and funding opportunities that are open for youth to study at the world's most prestigious universities – something I now deeply regret not knowing," says Ilma Ibrišević, a long-term volunteer in AIESEC, who is currently working in the national board of AIESEC in the United Kingdom.
Volunteerism not only benefits those seeking hands-on experience but also the host institutions, as they can then employ volunteers who have gained the specific skills required by their institution, through their voluntary experience.
Post-Conflict Research Center (PCRC) is a Sarajevo-based NGO, which throughout last year alone had over 30 young interns from around the world undertaking voluntary work with them. "Since 2011, when the center was founded, we have received over 200 applications for internships, and we continue to receive new ones every day. These young people come from various countries within Europe and around the world, but there [is] a considerable number of them from Bosnia. Volunteers at our center are an amazing resource, they provide exceptional help in our work and in the improvement of our projects," says Velma Šarić, Executive Director of PCRC.
Volunteerism can therefore enable individuals to display an ability to work successfully within a team, provide practical experience of situations requiring critical and analytical thinking, show proven flexibility and organizational skills and foster potential for innovation. These attributes may prove beneficial to applicants looking to secure paid employment in a high unemployment job market, whilst providing host institutions with passionate, dedicated individuals that can enhance their work in many different ways. Further developing and encouraging a culture of volunteerism in Bosnia therefore appears to be a win-win situation.