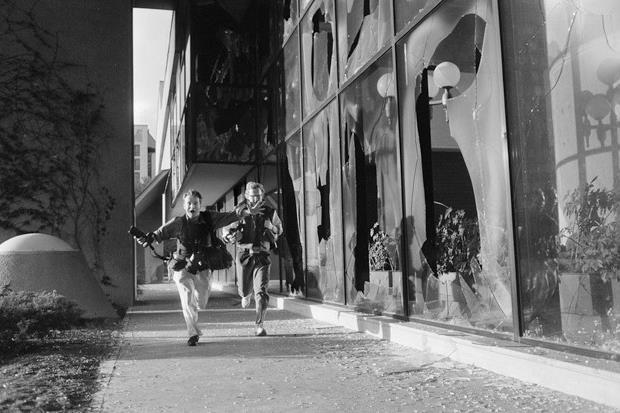 A new film, Sympathy for the Devil, will examine the experiences of the journalists reporting from the front-line in BiH. Balkan Diskurs sat down with co-producer Amra Bakšić Čamo to discuss the upcoming film and her experiences working in the Bosnian film industry.
A new film, Sympathy for the Devil, will examine the experiences of the journalists reporting from the front-line in Bosnia and Herzegovina. Balkan Diskurs sat down with co-producer Amra Bakšić Čamo to discuss the upcoming film and her experiences working in the Bosnian film industry.
During the war in Bosnia and Herzegovina (BiH), families across the world sat down every evening to scenes of a besieged Sarajevo into their living rooms. A new film, currently being shot on the streets of Sarajevo, will examine the experiences of the journalists who brought these stories so vividly to the rest of the world.
Amra Bakšić Čamo, co-producer of the upcoming film Sympathy for the Devil, head of the Sarajevo Film Festival's annual co-production market CineLink, and a founder of the production company pro.ba, recently met with Balkan Diskurs to discuss her upcoming film and her experience working in the Bosnian film industry.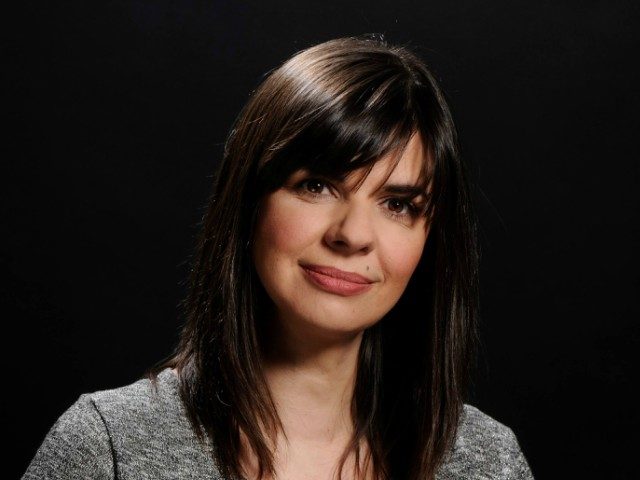 Sympathy for the Devil is based on the memoirs of French war correspondent Paul Marchand. While in Sarajevo, Marchand became infamous for his daredevil behavior. He mocked the flak jackets of other reporters and drove through the streets in a beat-up car with "Do not shoot. Waste your bullets. I'm immortal." written on its bonnet. He is remembered for abseiling down the atrium of the Holiday Inn hotel during his free time, even persuading the conductor of the Sarajevo Philharmonic Orchestra to do the same when conducting the concert at the hotel in 1993.
When asked about Paul's daredevil actions, Amra responds, "Of course these people are adrenaline junkies. This is not the only job in the world where you need to be an adrenaline junky, but I think you also have to understand how young some of these people were, and young and crazy go together…When you are 22, it's so normal to think you are immortal. What else would you think?" When reflecting on how young many of the film's characters are, Amra reminisces about her own experience, "I was of that generation: thinking that I was mature because of the experience I had. But I was not. I was a kid."
During the siege of Sarajevo, the city was filled with journalists and Sympathy for the Devil offers a unique take on this aspect of the war. The film explores Sarajevo as "a key place where an entire generation of European war reporters and photographers grew up." "Those 20-somethings came to Sarajevo and became who they are during the siege," says Amra.
This film is not Amra's first exploration of the role of foreign correspondents stationed in Sarajevo during the siege. She also worked on a film, Sweet Dreams, about an Italian journalist dealing with his past while using the war as the background to his story. "The film used the Bosnian War to show the kind of person the war photographer truly was; how closed off he was and how he could not express his emotions."
Although Amra knows that Sarajevo left its mark on many journalists' lives, Marchand's story is of particular importance because of the siege's lasting impact on his life's path. It was in this city where a shot to his arm largely ended his front-line journalistic career. Marchand took many risks as a reporter and was a scathing critic of what he saw as the journalists' detachment from the real lives that they were commissioned to report on. As a result of his experiences, he developed a strong personal attachment to Sarajevo and its people and it was Marchand's former girlfriend, Slobodanka Lizdek, who introduced Amra to Sympathy for the Devil director Guillaume de Fontenay.
"The film is also about her story in many ways because she worked with Paul and was his girlfriend during the war. She now lives in Sarajevo," Amra says. "So, she basically introduced the two of us and I realized that his was a really interesting story. This was not just the typical guy who comes, sees a kid, snaps a photo, and leaves. This story is what makes this a different type of film…because it's about morality."
Many viewed the siege of Sarajevo as a test of journalistic integrity and a number of reporters have been accused of bias and superficial reporting on the information that was provided to them. Other journalists felt that their work was futile in the face of international indifference. From the perspectives of some Sarajevo residents, the journalists were cold and uncaring. Bosnian film director, Jasmila Žbanić, explored this perspective in her 2003 documentary, Images from the Corner. In this documentary, Žbanić followed the story of a girl who had been injured by a shell in her neighborhood. The girl had stuck in the director's memory because, as she lay in the street a French photographer had, instead of helping her, taken photos of her, photographs which later won an international award.
Amra acknowledges that she has heard many distasteful stories about journalists and their actions during the war and believes that Sympathy for the Devil serves to address important topics related to ethical reporting. "He is a journalist, but while he is here, he is gaining more understanding and is further becoming a citizen of Sarajevo. And it is through this process that he begins to question what objectivity means."
Amra's previous work has also made her more aware of the challenge of objectivity in war reporting. "I worked on the documentary The Siege by Rémy Ourdan, who is the founder of the WARM Foundation, which is an association of the war journalists and photographers. During this process, I had the opportunity to meet some of the members. They are professionals who not only came to Sarajevo during the war, but who go from one crisis to another, and you learn that it takes a certain kind person to such a job," Amra says.
She has also come to realize that a war reporter can't always distance themselves from their subjects. "Sympathy for the Devil is so interesting because it tells the story of a journalist who leaves the journalistic 'bubble'. He then suddenly has friends who are losing family members and who don't have anything to eat. For most journalists, it's like a blitzkrieg: they come for a very short time, do the story, return home, and try not to let their experiences influence their everyday lives. But for those who stayed, who were in Sarajevo for a longer period of time, they were forever changed," explains Amra after which she asks, "How could they continue to draw the line between objectivity and the life of people in Sarajevo?"
Unlike most films based on events in Bosnia, the filming for Sympathy for the Devil was done entirely in-country. "Authenticity was really important. Usually, only a few days are spent in-country to produce a few scenes. Then, filming is moved to Hungary or Croatia where you can get tax rebates," Amra states. According to her, recreating a besieged Sarajevo in an authentic way has proved challenging. Not only must you recreate a war zone, but you must also take the city back to the twentieth century.
However, the producers have not just been met with challenges as a result of their choice to film entirely in Sarajevo, but with support for the film and for the potential financial benefits that the film will bring to the city. "We have been lucky that we have found understanding for this film among the Canton Sarajevo's government officials. Because the film is based entirely in Sarajevo, they have truly offered generous support, not only in terms of finances but in the form of services to help us to finish production."
Although films such as these have the potential to attract investment to Bosnia, when asked about the future of Bosnian cinema as a whole, Amra concedes: "I don't have any optimism left." The challenges faced by the Bosnian film industry limit both foreign investment and the development of homegrown talent, for example, BiH does not have tax shelters, so it is difficult to attract foreign crews. Finally, Amra identifies a societal problem that impacts the Bosnian film industry: "Our society does not currently display an understanding of art culture. Culture is either observed as an entertainment for the posh, or it is viewed as a non-necessity because it is not observed as an economic activity. Nobody cares what we as a society will leave behind for future generations." In spite of all the difficulties and challenges, however, Amra has not lost all hope. "There are incredible people, authors, and directors in Bosnia. Considering how small the country is, and how little money is being invested, the cinema that we have is still amazing," she asserts.
When asked about what she hopes Sympathy for the Devil will contribute to conversations about journalism and the war, she expresses that she wants the film, as with all other films that she works on, to be judged based on its long-term impact. "I think that you always have to be aware that we are not just making films for tomorrow; we are making films for eternity. So it's not just a question of the immediate impact that a Bosnian, or French release of the film will have in the present, but about how this film will be observed 40 years from now," she concludes.