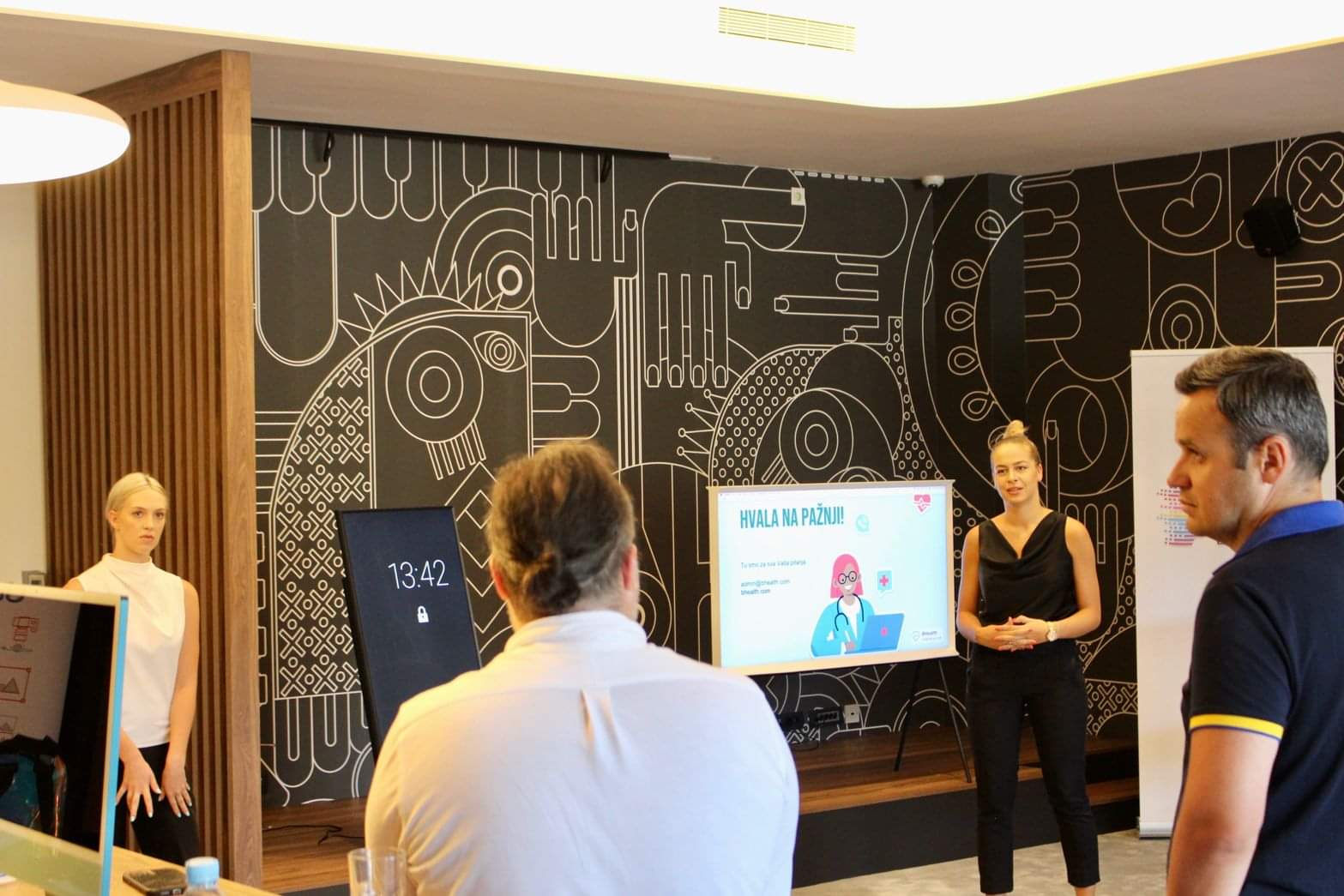 Instead of leaving Bosnia and Herzegovina (BiH), several young people together with their professors started developing and making innovative technologies, starting their own businesses. They created the SSST (Sarajevo School Science and Technology) Innovation Lab for the development of ideas, located in the premises SSST of the University of Sarajevo. 
Professor Nedim Čelebić, coordinator of the Innovation Lab, explained that its purpose is to provide comprehensive support to students in the process of starting their own businesses or developing their entrepreneurial and creative skills. 
With the support of other actors within the entrepreneurial ecosystem at the University, Professor Čelebić says that SSST Innovation Lab seeks to become a generator of a new generation of green, digital, and other innovative and sustainable businesses and jobs in Bosnia and Herzegovina. 
In addition to the physical infrastructure, which includes a co-working space, meeting rooms, and workshops, Innovation Lab also offers mentoring and professional support for the development and launch of business ideas as well as legal consulting, accounting, and marketing services. 
"Young entrepreneurs have the opportunity to first acquire new knowledge about the process of developing and starting a business and then, with the mentoring of academic staff and industry experts, to turn that knowledge into real solutions and actions. Networking with other young and enterprising people as well as business leaders is a bonus for the participants of SSST Innovation Lab," Professor Čelebić pointed out.
In addition to support for starting new businesses, the SSST Innovation Lab develops and strengthens the capacities of young people to develop and create new solutions in various sectors, from environmental protection to health and education. 
"Working in multidisciplinary teams, students from different faculties develop new solutions and products in the fields of medtech, cleantech, agritech, web 3.0, artificial intelligence, fintech, and many more," explained Professor Čelebić. 
The SSST Innovation Lab currently provides support for thirty student teams that develop new ideas to resolve problems in Bosnia and Herzegovina. One such team created a web and mobile app called BHealth.
How to Easily Schedule Health Check-Ups
Student Adna Salković describes BHealth as a web and mobile application that consists of two types of users – patients and private laboratories in Bosnia and Herzegovina.  
"This application allows users to efficiently search, compare, and schedule laboratory services, as well as to save all findings in one place. For laboratories it offers a unique way of maintaining the entire workflow in one place, with the storage of all previous and future examinations," explained Salković, who, together with her colleague Azra Kurtić, came up with the idea and developed the BHealth application.
As she pointed out, the idea emerged as a result of the complicated health system, the increased use of private health services, and the lack of an application that unites all private health institutions. 
"The initial goal is to offer an effective solution so that patients can easily search and schedule their examinations in order to simplify the process of performing the examination itself, and finally, hopefully, to raise awareness about regular health examinations," said Salković. 
In addition to already existing government grants, international donors, and individual investors, SSST University has provided special funds for the most promising business ideas.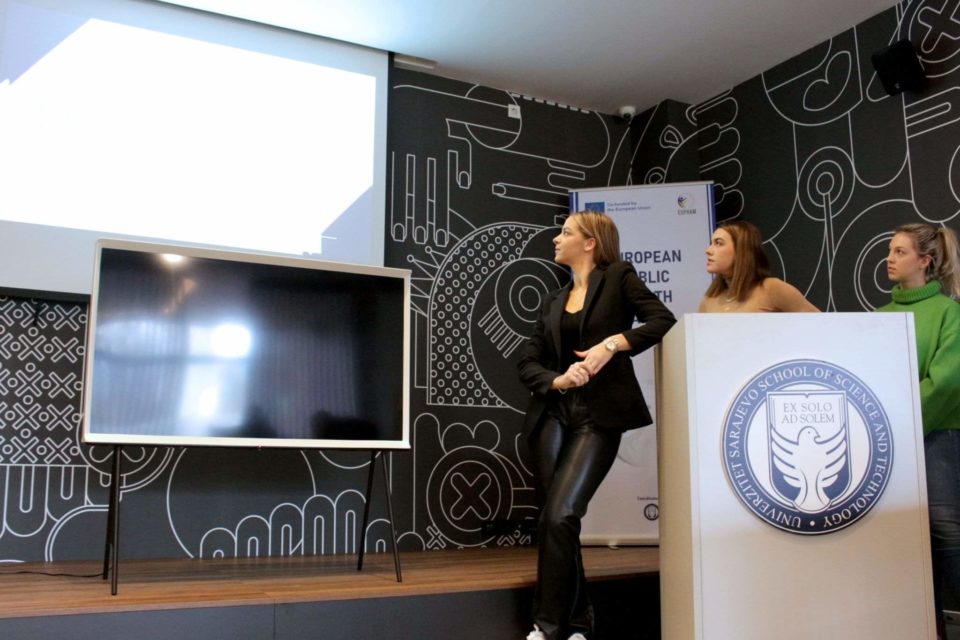 "This initiative comes at the right time, when international organizations working to strengthen the Western Balkans region recognize the importance and potential of developing such skills as early as possible in gifted young people," noted Professor Čelebić.
Synergy and Common Vision for a Better BiH
Despite these opportunities, young people leaving Bosnia and Herzegovina is still among the country's most serious problems. Salković says that traveling can be good for young people when it comes to studying and gaining professional experience, however, in Bosnia and Herzegovina, their departure is a result of the lack of opportunities for young and educated people. 
"The quality of life, dismal outlook, and the dissatisfied and frustrated society play a big role, making it easier for many to leave the country because there are little to no changes in these factors, which unfortunately justifies their departure," asserted Salković.
Professor Čelebić believes that Bosnia and Herzegovina has numerous comparative and competitive advantages that are not adequately used. With the synergy and joint vision of the government, business, and academic sectors, he says that it is possible to create a business and social environment that will not only deter the departure of young people, but will also make Bosnia and Herzegovina desirable and attractive for foreign citizens to live and work in. 
Students Adna Salković and Azra Kurtić advise young people to find a part of themselves – something they are passionate about, that they love – and to let it  guide them. This is sure to lead to positive results.
According to global research, nine out of ten start-up businesses launched at universities even live up to five years of business. Start-up businesses founded in other systems tend to last much less. 
SSST University has a vision of fostering a better environment for life in Bosnia and Herzegovina through creating new and more attractive jobs that will contribute to retaining young people in the country.
This article is part of a series of texts within the #EmployMe project of the Post-Conflict Research Center and Balkan Diskurs. The series aims to raise awareness about the problems that young people face in the field of education and employment in BiH and highlight some good practices in battling these obstacles. This series is part of the "Youth Retention Program in BiH – Opšta Mobilizacija," implemented by the Nešto Više Association and PRONI Center for Youth Development, with support from the Delegation of the European Union to BiH.