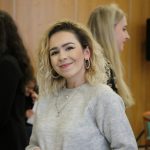 —

Adelisa Mašić

—

Adelisa is a trained Balkan Diskurs correspondent from Sarajevo, and a student of Italian language and literature and art history in Sarajevo. Since high school, she has been active in various projects that have helped her develop an interest in journalism. She volunteers at the PRONI Center for Youth Development, and attends the academy of the same organization – the Academy of Youth Work PAOR. She also holds Italian language classes at the Center for Culture and Youth of the Municipality of Centar in Sarajevo.
Instead of leaving Bosnia and Herzegovina (BiH), several young people together with their professors started developing and making innovative technologies, starting their own businesses. They created the SSST (Sarajevo School Science and Technology) Innovation Lab for the development of ideas, located in the premises SSST of the University of Sarajevo. 
Domestic violence and violence against women are global problems and violations of basic human rights. Women around the world are exposed to various forms of violence that are often prevalent in the family. This problem is pronounced in our country, despite measures adopted to prevent it.
For more than a hundred years of turbulent history, Sarajevo and its inhabitants have kept the Sarajevo Haggadah, a written collection of Jewish regulations and traditions, from wars, arson, and theft. Its home is the National Museum of Bosnia and Herzegovina, which the Haggadah has had to leave several times in order to be preserved.