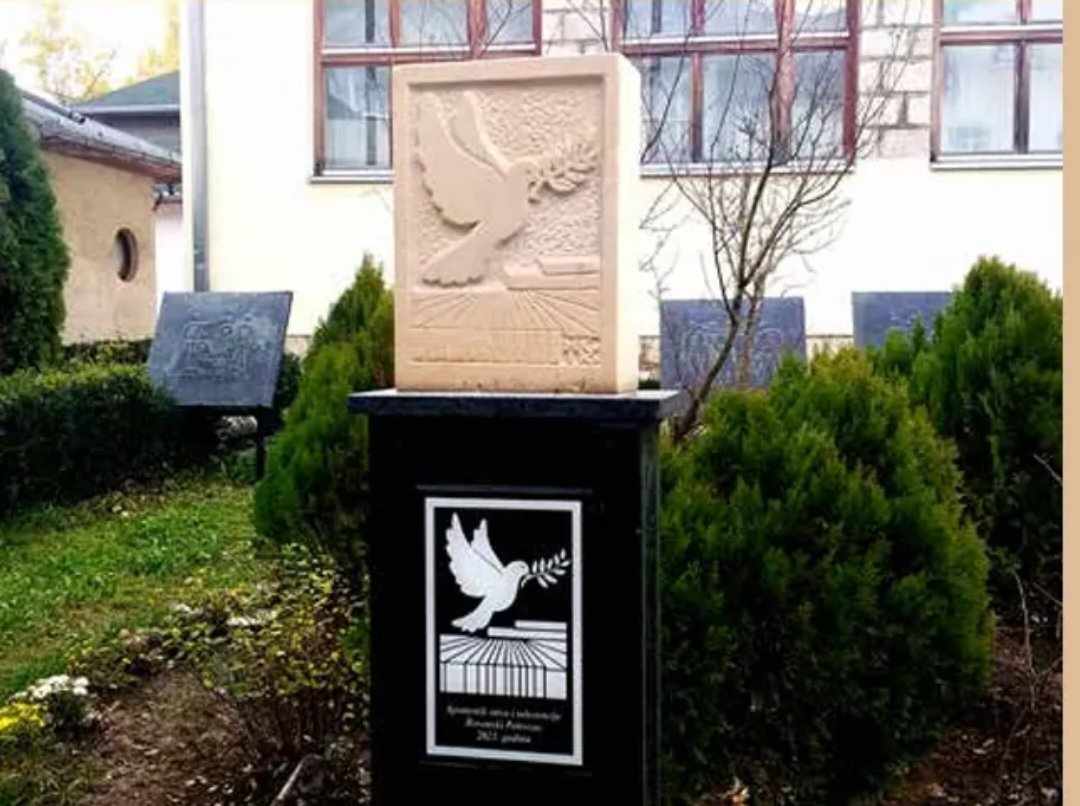 Peace monuments in Bosnia and Herzegovina (BiH) are increasingly more present as of the ways of establishing peace in a post-conflict society.
One of three such monuments in BiH is the Peace Monument in Bosanski Petrovac. This town of just over 7,000 inhabitants – half of whom are Serbs and the other half Bosniaks – has been hard at work in the local fight against ethnic hatred and a divided society.
The Mayor of Bosanski Petrovac, Mahmut Jukić, emphasizes the importance of erecting this monument: "In our community, we must build peace, coexistence and respect, and do good deeds, as much as we can. The greatest gifts we can give our children are the pillars of responsibility and the wings of independence, and if we want true peace, let's start with the children."
The Peace Monument was also visited by representatives of the international community, whose visit on the occasion of International Peace Day was organized by the OSCE Mission to Bosnia and Herzegovina. Together with the representatives of the Municipality of Bosanski Petrovac, the visits were attended by representatives of the Office of the United Nations (UN) Resident Coordinator in BiH as well as the Ambassador of the Kingdom of Sweden to BiH, Kathleen Kavalec. The erection of the monument was also praised by the UN Under-Secretary-General, Alice Nderitu, in her video address in Srebrenica on July 11, noting further UN support and efforts in the community.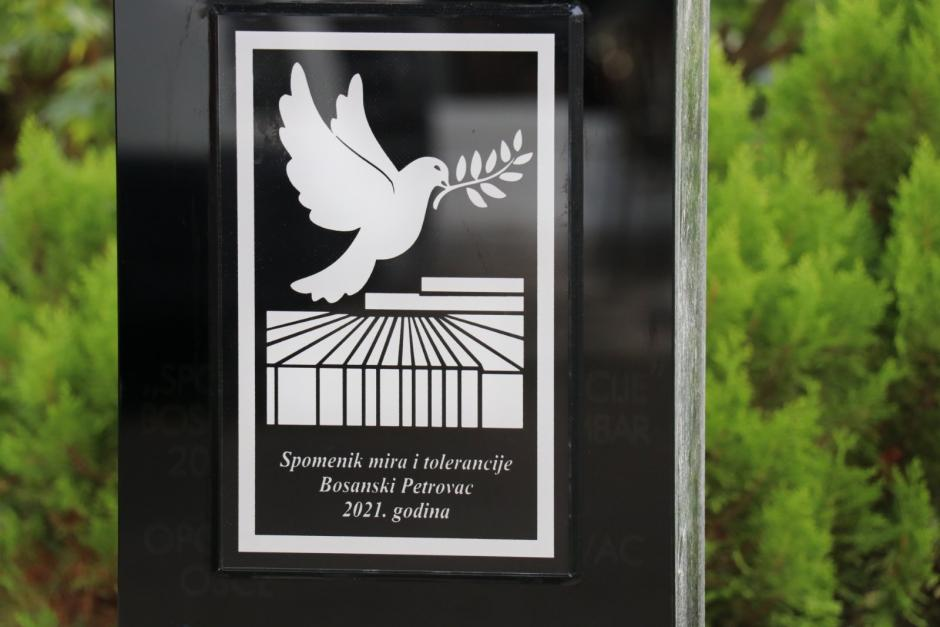 As Ivan Lupis, UN Political Affairs Officer, points out, the visit served not only to highlight Bosanski Petrovac's successes in promoting mutual trust, constructive dialogue and cross-nationality cooperation, but also to inspire other communities to follow suit. "We hope to continue highlighting and promoting such positive narratives. They are powerful counterexamples to the rhetoric and agendas of division of some public and elected officials and media organizations. We hope to help these champions of peace connect with other partners across the country so that more joined-up peacebuilding and cooperation efforts can be replicated across the country," says Lupis.
Over the last two years, the OSCE Mission to BiH has been implementing the 'September: Month of Peace and Tolerance' initiative, within which they have organized numerous activities for young people on the topic of reconciliation. Of the activities that took place during September of this year, preschool children in Bosanski Petrovac created and sent messages of peace, and primary and secondary school students studied materials celebrating the cross-nationality of this town in their religious and historical curricula. In addition, they held quizzes on local history and knowledge of each other's religions, and visited churches and mosques.
"It is not monuments that speak"
Tarik Družić, 20, from Bosanski Petrovac believes, however, that the newly erected monument has no significance or in any way affects the everyday life of young people in his local community. "The social environment currently offers more risks and uncertainties than chances for a better present and future. It is not monuments that speak about building peace and dealing with the past, but individuals and their life stories," he insists, adding that the culture of memory cannot be created only by one side, but with the interaction of government and of people of different nationalities.
He highlights informal education as a space that provides young people with the opportunity to interact and collaborate with each other. "I hope that there will be a change and that young people will get a chance to express themselves as they deserve, by taking that step that leads us to peace and progress. The voice of young people does not lead to conflicts, because young people do not want conflicts. We want quality time with our peers and to be able to choose sneakers and mobile phones regardless of price and politics," believes Tarik.
A monument of hope and a big step forward
On the other hand, his fellow citizen and youngest president of the Municipal Council in Bosanski Petrovac, Nemanja Davidović, states that peace as an atmosphere is created with both monuments and people. "The Peace Monument in Bosanski Petrovac is a personal reminder to me to resolve things in a peaceful way, to seek both internal peace and dialogue and peace among people. Bosanski Petrovac is a great example of coexistence and this monument certainly presents it to the world in a great way. I think that young people see the importance of peace and the importance of peace talks, monuments and all joint initiatives," says Nemanja. He adds that Bosanski Petrovac is an environment where there is no division and where young people participate together both in progress and in discussions about the past.
Adnan Družić, Youth and NGO Officer in Petrovac Municipality, says that for him, the Peace Monument is a beautiful and symbolic act to show that Bosanski Petrovac stands for peace and that, as a community, they want to work to strengthen the reconciliation process. "For me, this monument represents hope. Hope that in the future our municipality will develop even more and be more successful. Hope that nobody will ever again leave this city due to a war. The monument is also a message to children and young people, to  the new generations of Bosanski Petrovac, to know what kind of community they live in, and to constantly work on preserving and building the coexistence for which this city is known. I think young people don't even see how big a move this is in our community," says Adnan.
He hopes that in the future, through activities with young people from other communities in BiH, young people from Bosanski Petrovac will feel how big a step their small town has made. He hopes that they will see that they can become leaders of positive narratives and reconciliation processes throughout BiH. "For a long time now, children and young people in our country have been living together. This is not made up, it's real. We go to kindergarten, elementary school, and later to high school together. Young people are often the bearers of initiatives aimed at strengthening the process of reconciliation and dealing with the past. I am convinced that the Peace Monument not only recognizes, but also crowns, all previous activities and projects on this topic," concludes Adnan.
Although of different opinions, young people support one thing, and that is peacebuilding work in their local communities. Peace monuments represent a continuation of this process and they replace those monuments that instead seek to promote hatred towards other peoples or that glorify war criminals.
This article was initially published within the first edition of MIR Magazine. MIR, which means 'peace' in Bosnian is an annual publication and platform for young inventive people developed by the Post-Conflict Research Center and Balkan Diskurs. It is dedicated to individuals and organizations that left us a legacy of strongly built foundations to continue our fight for peace and justice.