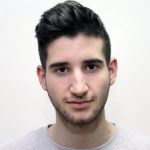 —

Marko Mlikota

—

Marko is a Balkan Diskurs trained correspondent from Mostar. He holds a BA degree in public relations from the Faculty of Philosophy in Mostar, and is currently pursuing a master's degree at the University of Zagreb. Marko also works as a journalist for several local online portals.
The activities of the Klima Bez Dima initiative were presented this week to a large number of visitors during the 2019 International Economy Fair in Mostar.
January 31st marks No Tobacco Day. Launched in 1982 as a way to alert the public to the harmful effects of tobacco smoke, this day is now celebrated across the region. This year, activists from the "Klima Bez Dima" ("Environment Without Smoke") initiative decided to organize an action in Mostar to commemorate the occasion.
According to data from the Gender Center, the most common form of punishment for the perpetrators of domestic violence in the Federation of Bosnia and Herzegovina (FBiH) is conditional sentencing, even though this type of punishment opens up the possibility for the perpetrator to commit additional violent crimes.