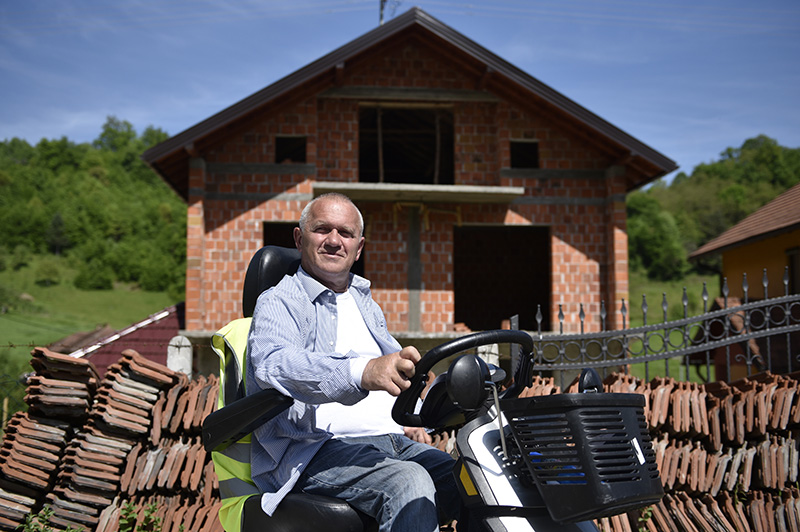 Two years ago, I visited the Memorial Center in Potočari with a friend from Holland. That day, I began getting to know this man, Senad, as he told me his incredible story of courage and survival.
Two years ago, I visited the Memorial Center in Potočari with a friend from Holland. We noticed that the doorman was in a wheelchair. As we approached, he greeted us with a slight smile on his face: "Hello girls". We were both drawn to his energy and warmth. That day, I began getting to know this man, Senad, as he told me his incredible story of courage and survival.
After spending two hours with Senad on the benches of the Potočari Memorial Center, he had revealed to me that he had lost his father in the July 1995 genocide in Srebrenica and that he had returned to his birthplace where he was planning to stay "until the end."
Somehow I knew that I would be visiting Senad regularly in the years to come, and, after we met, I would often take a 20-minute bike ride to go and sit with Senad on his terrace where we shared stories of war, love, and so on.
I found out that he returned to his native Potočari because: "there is nothing more beautiful than to see the loving hills of Srebrenica every morning." One unavoidable topic of conversation that always arises involves various varieties of raspberries, pesticides and irrigation methods. This is because Senad and his colleague Radenko started a now booming business growing raspberries in the region. He is now regarded as a positive example to farmers, politicians and even advocates of ethno-national division.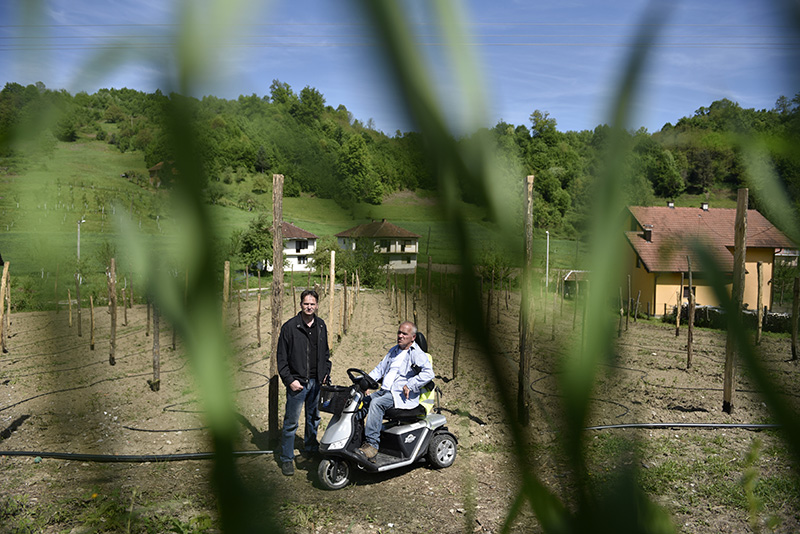 He describes himself as a great fighter for life. When asked what he means by this, he adds, "I'm a fighter for interpersonal and peer relations."
When I first visited Senad, I noticed a picture hanging on the wall. He explained: "This is my father and Radenko's father. We all grew up together, here in this village, and they hung out together."
"All our neighbors and the people in the surrounding areas, we grew up together our entire lives. This is the only way of life that I know. This whole area – from those Serbian houses to these hills – it was an integral part of our lives. We knew everything about each other. We played together, guarded livestock together, went to school together. There were marriages and funerals. We welcomed newborns and celebrated everything with each other… We always helped each other out," Senad recalls.
Despite the fact that he has had to endure the loss of his father and many other family members, and despite his struggle with the physical disabilities he incurred while escaping from all the death and shooting, Senad still believes in the inherent moral and human values of mankind.
He recalled how he was beaten several times throughout the conflict and, in our last conversation, recounted the final encounter with his father in Srebrenica.
"The commotion started and people were confused, so we decided to go down to the battery factory [A designated UN "safe zone" that fell to Bosnian Serb Army under General Ratko Mladić]. We had not even packed, we just took one bag. My mother put some of our family photos and a little bread in it. She was already exhausted and it had become hard for her to move. "We were halfway to the factory when she said: 'You go and I will meet you,'" Senad recalls. He explained that they had gone to find a place where they could wait together to see what would happen next.
When they reached the bridge, Senad's father told him: "Go and get your mother and we will sit here and wait for further developments."
"He walked into the crowd to try and find out what was happening and to figure out what the best plan of action would be. There, we smoked a cigarette, and that was the last time I saw him alive," says Senad.
Senad believes that his father was most likely executed after he accidentally found himself among a group of people who broke through the fence to enter into the factory. He says that the events that followed in Srebrenica, and which led to his rescue, changed his life and made him believe that miracles are possible.
Senad managed to get onto a bus carrying women and children that was headed for Kladanj. This is where he met the Serbian soldier who would save his life.
"I crossed several barricades on the road to Kladanj and when I reached the third or the fourth, I just could not cross it. It was so big that I could only get halfway up before I fell off and into branches of a tree. One of the guards managed to pull me down. I fell onto the asphalt, and he pointed his gun right in my face. In that moment, a soldier from the other side came and pushed the gun away from my head and said: 'Do not touch him. I know him.' And so, the other soldier retreated," Senad explains.
The soldier then lifted him up from the ground and said, "Do not be afraid of me, I know you."
"Still to this day, I do not know who the man was. I was looking at the ground the entire time, not to the left, not to the right. He took out a cigarette and said: 'You can't smoke a cigarette if you keep shaking in fear that way.' He lit the cigarette and placed it on a stone for me to sit down. He then said: 'Do not be afraid, everything will be fine. I will take you this way,'" Senad recalls, noting that the soldier knew everything about him; who his father was, and where he and his brother and sister worked.
According to Senad, the soldier gave him another cigarette and cleared a path for him, removing some wires, cables, and ropes out of the way. He then lifted Senad from the stone he was sitting on and led him through the path.
"He told me: 'Go down this road, do not look back, do not respond to anyone… Just keep walking until you get to your people. You don't have much further to go,'" Senad recalls.
Senad said he cannot remember the face of the man who rescued him, but the man's moral sense of responsibility remains unmistakable and it prevented the other man from doing him harm. In the many conversations that followed, I asked Senad if there were any other reasons he had returned to his native Potočari. Senad said that he often still dreams about the day he was rescued and that he would like to find the soldier or his family so that he could somehow repay him.
"Maybe it is not time for that yet, but one day, I am sure that time will come," he says, adding that he now feels obligated to foster that sense of unity that existed before the war in order to nurture and preserve friendship among people of different backgrounds.
Senad believes that the type of person that you are is more important than which group you belong to. "I'm a human being, you're a human being, I don't see what the problem is," he says. He believes that though we cannot change the past, we should remember it so it that history does not repeat itself and we should use that knowledge to influence what our future will be.