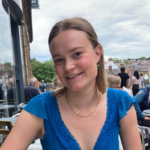 —

Minna Erith

—

Minna Erith holds a BA in History at Durham University. Her interest in Bosnia and Herzegovina and post-conflict resolution stemmed from studying modules in Human Rights and twentieth-century conflicts. Subsequently, her dissertation looked at the representations of sexual violence in the Bosnian War which included research on the gendered experience, peacekeeping methods, and transitional justice. Minna was an intern at the Post-Conflict Research Center and looking forward, she hopes to pursue a career in the political and diplomatic sphere.
Conflict-related sexual violence (CRSV) has lasting consequences not only for survivors but also their families and communities. According to reports published by NGOs in BiH, memorialization and public acknowledgement of these crimes are an important part of securing justice for victims, facilitating their healing and reintegration into society.
Criminal convictions are an important aspect of achieving justice and accountability in the aftermath of conflict-related sexual violence. Indeed, BiH has recognized that fighting impunity and facing the past through this legal avenue is the basic precondition for the gradual reconciliation of society (Moratti, 2022). The second part of this series on conflict-related sexual violence (CRSV) will therefore explore the good and bad practices related to the legal response to CRSV.
The pursuit of justice for survivors of sexual violence committed during the war in Bosnia and Herzegovina (BiH) offers valuable lessons for international and non-governmental organizations as well as other actors now working with the survivors of war crimes being committed in Ukraine more than 25 years later.