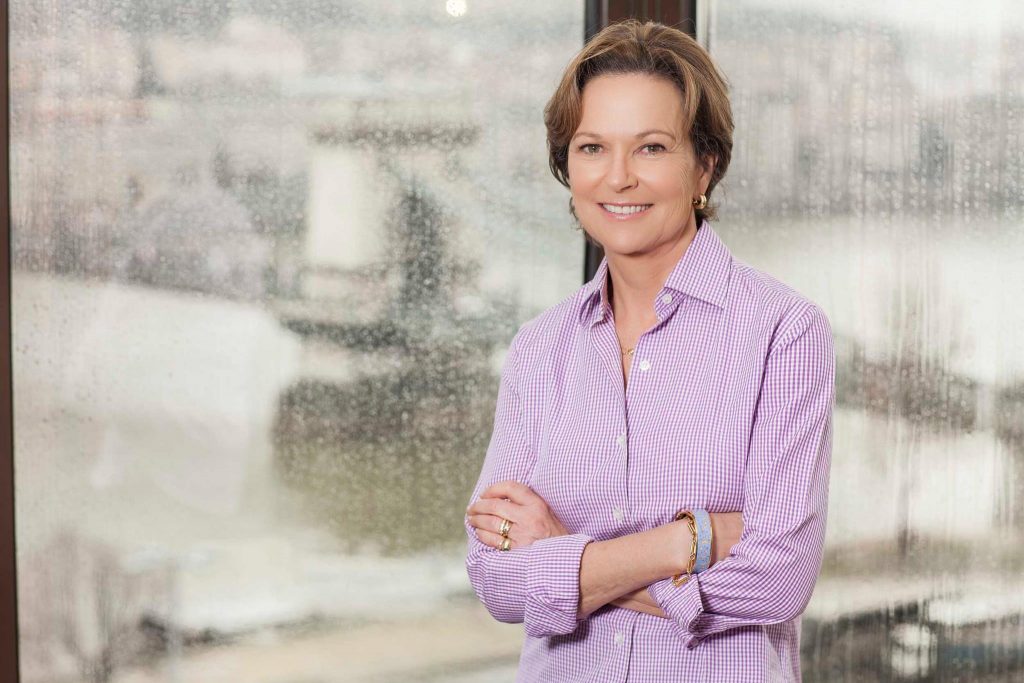 Yeree Woo speaks with renowned Hungarian-American author, award-winning journalist and renowned human rights activist Kati Marton, whose vibrant career and high profile love life put most lives to shame.
"In a lifetime, you have several chances to reinvent yourself," said Kati Marton during her visit to the Sarajevo School of Science and Technology. Students were excited to meet and learn from the renowned Hungarian-American author, journalist and renowned human rights activist, whose vibrant career and high profile love life put most lives to shame. During an interactive discussion session, Marton shared the details of her journey from a political orphan in Hungary and her family's escape to America to her career as an award-winning journalist and her role as the wife of the late diplomat, Honorable Richard Holbrooke. Her reinvention also referred to Bosnia-Herzegovina and the challenges the country still faces almost two decades after the war of the 1990s. Marton's magnetism and passion held the room captive and the life lessons she imparted were as authentic, commonsensical and enlightening as her person.
She began her story with details of her childhood in Budapest, Hungary under the iron thumb of a repressive, menacing communist regime. For her book, Enemies of the People: My Family's Journey to America, Kati reviewed thousands of pages from Communist Hungary's brutal State Security Agency's secret surveillance of the Martons that revealed betrayal by coworkers, friends and even their family dentist and nanny. Kati's parents, Endre and Ilona Marton, were charismatic correspondents for rival foreign news agencies, who were arrested, interrogated and imprisoned for exposing corruption in the Hungarian government and maintaining friendships with western diplomats. Kati and her sister were raised by strangers for over a year before her parents were finally released.
Due to continued threats from the Hungarian government, the Martons escaped to the United States in search of a freer life and better opportunities for their children. In Bethesda, Maryland Marton began her life as an immigrant in America much like others grappling the difficulties in "creating a cohesive personality out of splintered loyalties."
Beyond her accounts as a political orphan in Hungary, Marton also discussed her inspirations in her career as an award-winning journalist. "I never wanted to be anything but a journalist," she told the group. Before Marton reached the summit of her career as a journalist, she had many obstacles to overcome including winning over another feisty, female journalist at the time, Barbara Walters. During her time as a journalist for ABC and NPR, Marton covered civil wars on every continent and met with notorious terrorist groups. She received death threats for exposing corrupt American politicians. "It's been great," she said. She stressed the importance of living her life as truth teller. "Journalists get close to history," she explained. "We have a big role in keeping the government honest; we are not public relations people." Kati has received numerous honors for her reporting, most notably the 2001 Rebekah Kohut Humanitarian Award by the National Council of Jewish Women, the 2002 Matrix Award for Women Who Change the World, the George Foster Peabody Award and the Commander's Cross of the Order of Merit of the Republic of Hungary, which is the country's highest civilian honor.
She also candidly discussed her 17-year-long marriage with the late diplomat and architect of the Dayton Peace Agreements, the Honorable Richard Holbrooke. In Paris: A Love Story, her book dedicated to her late husband, Marton describes her tumultuous marriage with the ABC news anchor, Peter Jennings, as well as the "pure courtship" and love with Richard Holbrooke.
With regard to diplomacy, Kati learned from her husband that "diplomacy should be treated as an interaction, one human at a time, not a giant bureaucracy." To illustrate the human nature of diplomacy, Marton gave one account from the Dayton Peace talks in which her husband asked her to take each of the leaders on walks to help them envision the lives they wanted for their children and grandchildren. Marton described it as a nearly impossible task since it was "hellish to get them to agree on bathroom breaks, let alone agree to end the war."
When a member of the audience described the agreement as a "straightjacket constitution," she admitted that Holbrooke had some regrets in the end but reminded students that it was meant to be a transitional constitution which should be judged by its implementation. The main goal for her husband, she explained, was to end the killing and to establish peace. Marton said that the solution now relied on the new generation, those who have inherited history and were responsible for assimilating lessons from the past while living in the present.
"I urge you to be fearless. Be skeptical about what you read," Marton said. Despite the vibrancy of Sarajevo, Marton expressed some disappointment about the political state of Bosnia. The solution to corruption in Marton's eyes is an informed population and leaders whose "first responsibility is to be moral human beings." "Don't lose sight of your own morality," she urged the students. Marton concluded the discussion with her hopes for an established peace and reconstruction as her husband had envisioned years ago.