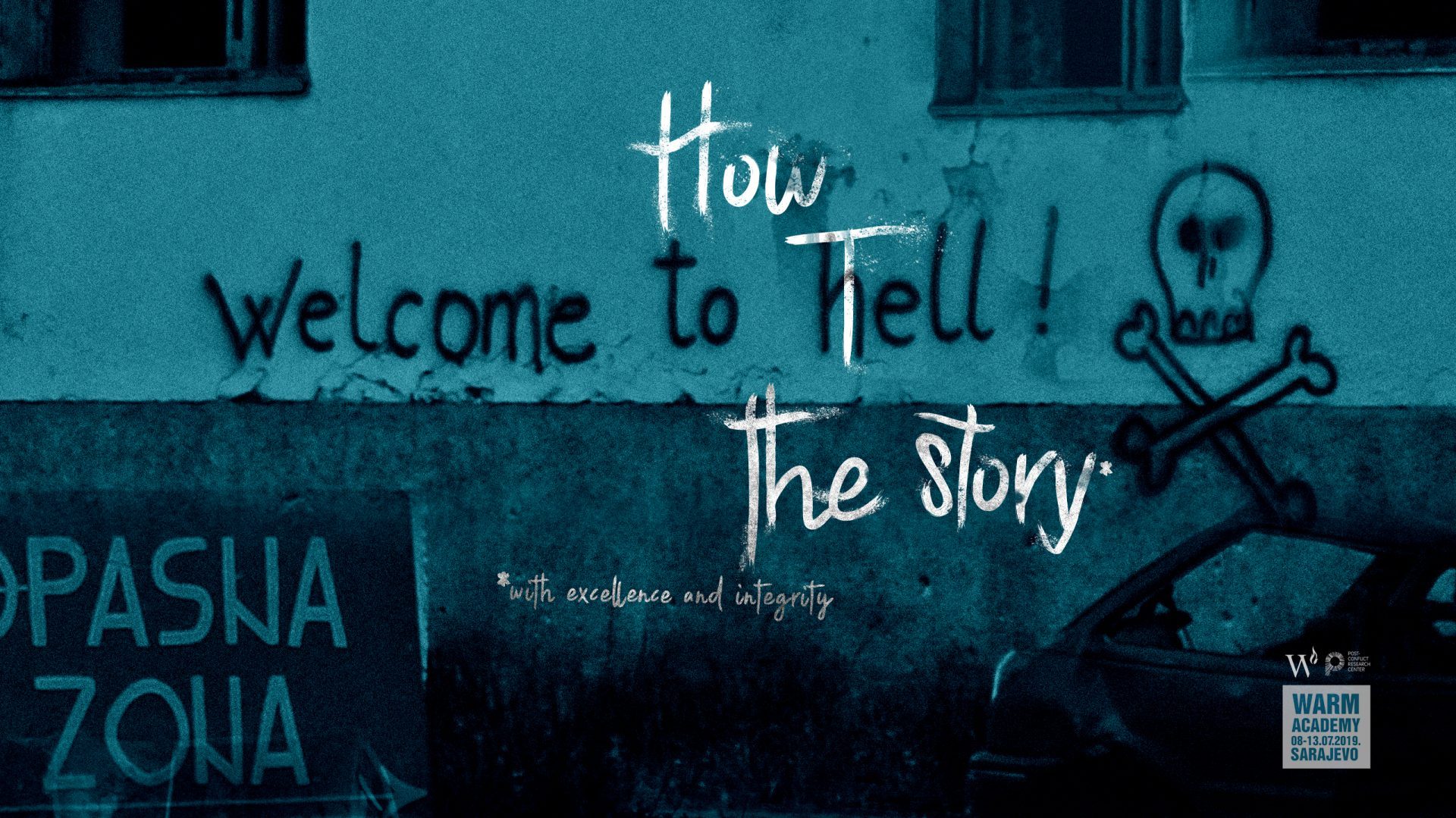 Are you a student, peacebuilding practitioner, artist, memory worker, journalist, or media maker interested in learning more about cutting-edge approaches to peacebuilding and conflict transformation?
If the answer is 'Yes', the WARM Foundation and the Post-Conflict Research Center (PCRC) invite you to apply for the 2019 WARM Academy taking place in Sarajevo, Bosnia and Herzegovina from 8 to 13 July 2019.
ABOUT THE WARM ACADEMY
The War Art Reporting and Memory (WARM) Academy is a multidisciplinary, educational and training program that focuses on developing participants' knowledge, understanding, and critical skills in the fields of peacebuilding and conflict transformation. Taking place during Sarajevo's annual WARM Festival, the Academy will feature a series of masterclasses, workshops, and interactive panel discussions that present cutting-edge approaches, innovative techniques, and best practices being utilized across the globe to address issues related to contemporary conflict and post-conflict transitions. The series will be delivered by world-class practitioners, academics, artists, and experts from the fields of media, transitional justice, historical memory preservation, journalism, art, violence prevention, human rights, and other related fields.
Masterclasses, Workshops, and Interactive Panel Discussions
Selected participants will be given the opportunity to examine a variety of contemporary conflict and post-conflict themes and topics as part of the 2019 WARM Academy's educational program, including:
"Conflict Reporting: Global Lessons of a War Correspondent" with world-renowned journalists such as Cécile Hennion and Rémy Ourdan from Le Monde.
"Historical Dialogue, Remembrance, and Accountability Practices" with experts such as Stéphane Grimaldi (Director of the WWII Caen Museum & Memorial) and Denis Peschanski (historian on the evolution of memory and trauma).
"Strategic Peacebuilding, Transitional justice, and Reconciliation Practices" with Velma Šarić and Leslie Woodward (Founders of the award-winning peacebuilding NGO, the Post-Conflict Research Center).
"Human Rights and Social Transformation" with academic Tanya L. Domi from Columbia University.
"Visual Storytelling through Film and Photography" with facilitators such as Damir Šagolj (photojournalist and Pulitzer Prize winner), Gary Knight (Director of the VII Photo Foundation), Mirsad Purivatra (Director of the Sarajevo Film Festival), and Amra Bakšić Čamo (filmmaker).
Exclusive Access to WARM Festival Events
Sarajevo's annual WARM Festival brings together artists, journalists, academics, practitioners, international organization representatives, activists, and others from across the globe for a showcase of the most cutting-edge works in art, film, photography, and journalism dedicated to telling the stories of international conflict and post-conflict transition with excellence and integrity. Thus, in addition to the WARM Academy's ground-breaking educational program, Academy participants will receive exclusive access to all WARM Festival events, which will include photography and art exhibitions, film screenings, book launches, and interactive discussions sessions with the Festival's most prominent guests. Over the past six years, the WARM Festival has featured works from the Middle East, Africa, Asia, Europe, and the Americas, therefore, Academy participants will be able to access the events and projects that most interest them as well as network with people from the regions they'd like to work in in the future.
Site Visits
This year's Academy program will include a number of optional site visits to important Sarajevo locations, including Gallery 11/07/95 and the Historical Museum of Bosnia and Herzegovina. A special site visit to the Srebrenica-Potočari Memorial Complex will also be organized for participants on 11 July, which marks the official commemoration day of the 1995 Srebrenica genocide.
ELIGIBILITY
This call to apply is open to students, researchers, artists, photographers, academics, journalists, and anyone with an interest in conflict transformation, peacebuilding, human rights, transitional justice, and other areas related to conflict and post-conflict transitions. Applicants must be 18+ years of age and possess advanced English language skills as the working language of the Academy is English. There are only 35 spots available (which include the spots reserved for participants who are eligible to receive scholarships), so be sure to apply today for your chance to be part of this year's program!
PROGRAM COSTS
The cost for participants residing outside of the Western Balkans is 600.00€. This fee covers accommodation, workshop materials, museum and institution entrance fees, guided tours of Sarajevo, travel costs to Srebrenica, and some meals. Participants are responsible for covering their own airfare/travel costs to and from Sarajevo as well as any visa costs (if they are required for your country). If you are a resident of the Western Balkans, please see the section below for more information about our WARM Academy scholarships.
WARM ACADEMY SCHOLARSHIPS FOR WESTERN BALKANS RESIDENTS
There are 15 scholarships available for participants who are nationals of any of the following Western Balkans countries: Bosnia and Herzegovina, Croatia, Serbia, Montenegro, and Macedonia. A scholarship covers all program costs including your travel and accommodation. Please indicate whether you are applying for this scholarship in the designated section of the application form provided below.
HOW TO APPLY
To apply, please send us a completed application form (click the link below) and your current CV to [email protected] by 28 June 2019.
---
ABOUT THE ORGANIZERS
WARM Foundation is an international Foundation working on the world's contemporary conflicts. WARM is dedicated to war reporting, war art, war memory and bringing together people – journalists, artists, historians, researchers, activists – with a common passion for "telling the story with excellence and integrity". Learn more: www.warmfoundation.org.
Post-Conflict Research Center (PCRC) is an award-winning, peacebuilding NGO, founded in 2011 and dedicated to fostering a culture of peace and preventing violent conflict in the Western Balkans by creating, implementing and supporting unconventional and innovative approaches to peace education, post-conflict research, human rights, and transitional justice. Learn more: www.p-crc.org.