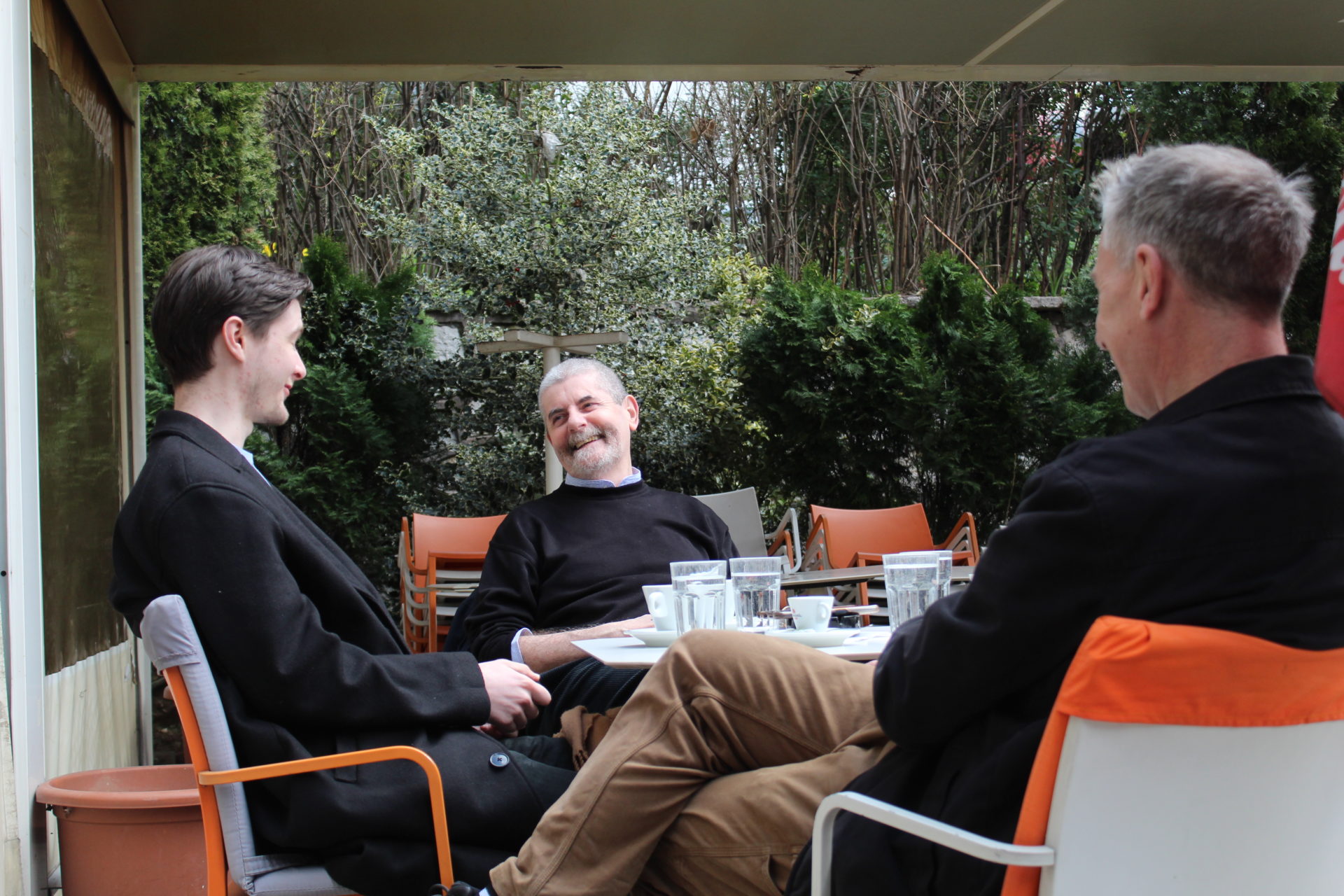 Bosnia and Herzegovina and Scotland are two small countries with a lot of differences, but the Scots who live in Sarajevo believe that the people of these countries are connected by warm hospitality towards foreigners, dark humor, and a relaxed view on life.
As spring began, with coffee in abundance and the sun beaming down on us, I sat down with writer Kevin Sullivan and photographer Jim Marshall. Our journeys that brought us to Sarajevo differ remarkably, but our common homeland of Scotland, and the cultural bonds that tie us together rang throughout our delightful conversation.
It must be said that many of my fellow countrymen and women that choose to leave the streets of Glasgow, Edinburgh, Aberdeen, or Inverness, often end up with incredible tales to share upon their return – if they ever choose to deal with the 'dreich' Scottish weather again, that is. Kevin and Jim are no exception. If anything, their stories go above and beyond to illustrate the often undiscussed and missing tale of Scots abroad, and the (mis)adventures that we 'wee folk' tend to find ourselves upon.
An Unlikely Connection
After discussing the almost obligatory topics of Scottish small talk – politics, independence, and football – we begin to talk about the cultural ties between Scots and Bosnians, as unlikely or hidden as they may be. "Age before beauty," Jim jokingly opens, inviting Kevin to take the first punt at the topic. It soon becomes apparent that one characteristic binds the two nations together more than nearly any other: our shared love of dark humor.
For many who are neither Scots nor Bosnians, it may seem rather strange that a particular sense of humor, especially one generally revolving around life's grimmer aspects, should serve as such a powerful unifier among people of two different cultures and separated by such geographical distance. But for nations such as Bosnia and Herzegovina, which has suffered so much devastation and destruction, and those such as Scotland, which has underwent enormous societal, political, and cultural changes over the last half-century, often feeling overlooked and at the outer periphery of the world, it should come as no surprise that our people have naturally come to love the more sinister, but nonetheless creative, side of comedy.
Sharing a personal anecdote from the war, in which a Bosnian commander jokes about the dire state of the Bosnian military during the siege, Kevin highlights that even in the darkest of moments, people were able to make light of their woeful situation: "What we need is close air support, and then he goes, ah wait, I just remembered we don't have an air force." Through all the horror, this society constantly finds ways to remind themselves that no amount of shelling or shooting could take away their humanity, their creative ingenuity, or their spirit.
The two continue to discuss the similarities they have both encountered across their time living in Sarajevo and Glasgow. From the strong, humble, working-class nature of the cities to the rich cultural tapestries that flow through everything from their architecture to their food, music, and arts, but most importantly, of the warm hospitality of the city's people: "The hospitality and homeliness of people was very similar when I came here…Sarajevo was an extremely cultural city."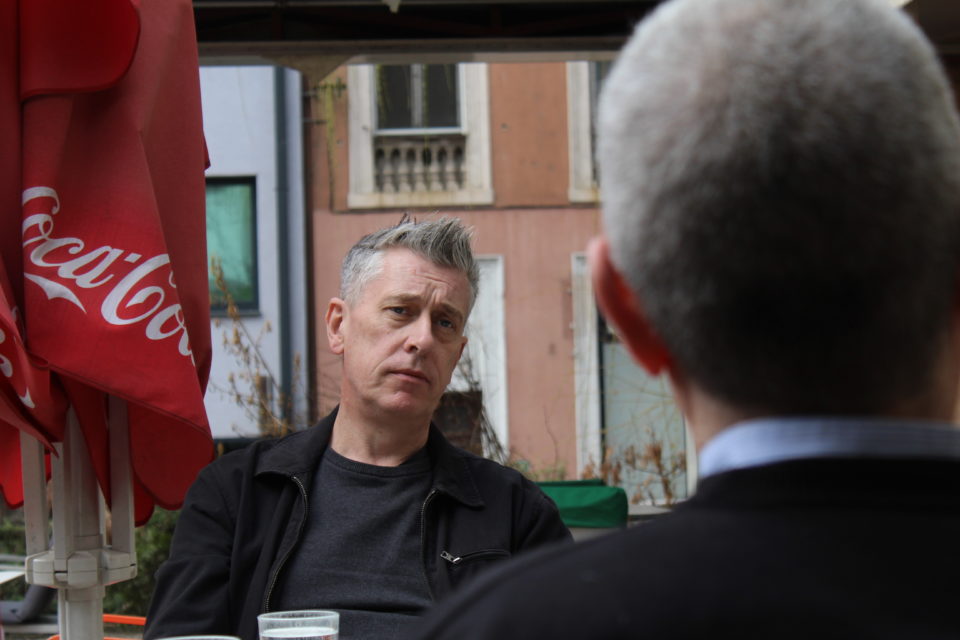 Winding Roads
The respective paths that brought them to Sarajevo differ greatly. For Kevin, leaving Glasgow in 1980 was both a personal and practical decision, seeking an escape from the recent election of Margaret Thatcher as prime minister. Working in Italy, Singapore, and Japan throughout the 1980s, before moving to Bosnia in 1992, he worked in a variety of roles, mostly as a journalist reporting on the changing tides across the world as the Cold War reached its end.
For Jim, the process was more direct. He tells me about his activities, working alongside NGOs operating out of Edinburgh providing aid for those in need across Bosnia: "Every Sunday I would volunteer in Leith to help load the trucks going to Bosnia…I'd certainly think that Scotland punched above its weight. Despite the fact that Scotland is so far away geographically, it was kind of disproportionate."
But when an opportunity came up to work more directly in the field, he leapt at it. "I'd never been outside of the British Isles" he says, continuing with a smile, "Mostar in 1994 was the first foreign place I'd been to, so I just thought all foreign places were like that." For him, that first journey beyond Scottish shores was not only a chance to help Bosnians directly, but also marked them beginning of an adventure that still continues to this day. "I was only supposed to be there for three weeks…but it ended up becoming 30 years."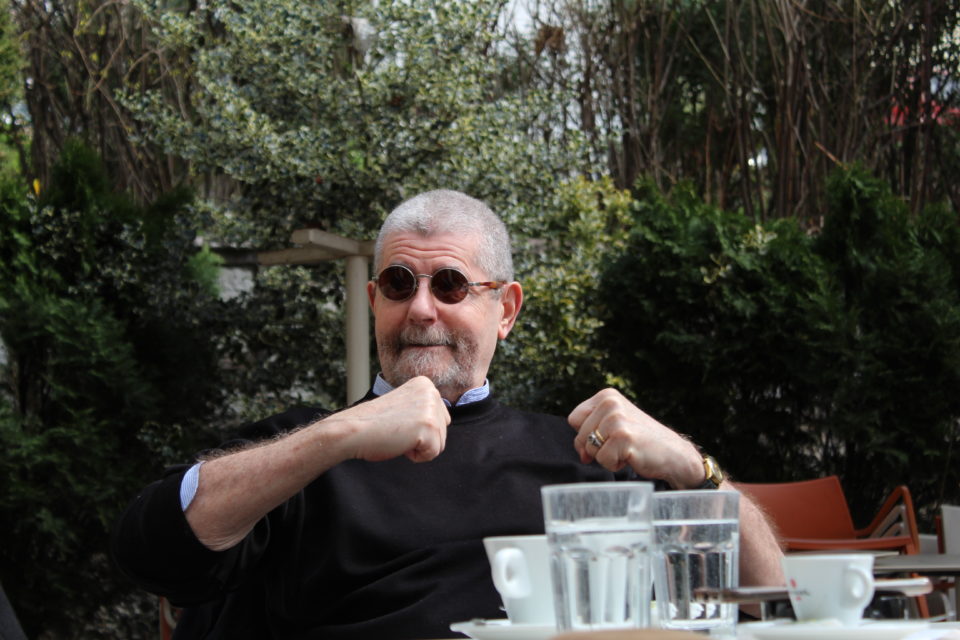 Changing Times
Although both have adapted incredibly well to living in Bosnia, there are always some growing pains when settling into a new environment. "I've never gotten used to Bosnian coffee, I'm ashamed to say," Kevin admits jocularly. "When I came here people couldn't understand a word I said," Jim confesses, certainly a common experience that many Scots abroad can relate to.
Even when visiting home, the two notice the growing differences between them and the ever-changing nature of Scottish society: "I feel like a privileged visitor in that I get to understand the accent and the jokes…I feel on the inside, but a lot of it, I have to ask," remarks Kevin, discussing his most recent journey through Glasgow. "Scotland was much more baroque than Bosnia was when I first arrived, Bosnians were used to meeting people from many different cultures, and Scots just weren't," adds Jim.
However, with the two having played a very active role in Bosnian society amongst the international community during and after the war, they were consistently questioned about their home: "When you leave Scotland and you lose touch with it, you're actually constantly reminded of it and asked to explain this, that, and the other about it."
Caledonian Legacy
Although overlooked by many and overshadowed by our respective regional neighbors, Bosnia and Scotland have certainly made their own marks on the world. Stretching beyond language, cultural, and geographical differences, the two small nations have managed to bind their two peoples together through our most common of links: our warm hospitality to strangers and friends alike, fondness for darker shades of humor, and our easy-going outlook on life. The shared love for an occasional hearty meal certainly doesn't go amiss either. Kevin and Jim are just two, but very important, parts of the connection that was sparked many years ago and flourishes to this day.
Maybe unknown to some, Scots have long played an important role in modern Bosnian society. Trevor Gibson, an aid worker during the war, was key in helping transport Iron Maiden star Bruce Dickinson when the group held a concert during the Sarajevo siege in 1994. Christine Witcutt, originally from a small town not far from Glasgow, gave her life helping to provide aid to those most in need during the war. You can still find a cultural footprint across Sarajevo especially, from the Celtic Pub on Ferhadija with its numerous Celtic F.C. banners and wide-scale shots of Edinburgh Castle, to the annual Burns Night supper, an event organized by the Caledonia Society of Bosnia & Herzegovina.
I'd like to personally thank Jim and Kevin for their time, and most importantly, their stories. I hope that this article helps shine a light on both of their rich histories living in Bosnia and Herzegovina, and the lessons they have learnt throughout their many years here.